Top 10 Best Open Source Projects on GitHub 2023
Open Source Software (OSS) has revolutionized the way software development is done today. With millions of Open Source GitHub projects available, it can be overwhelming to navigate and find the best open-source projects that match your needs.
This article lists the top 10 fastest growing open source GitHub repositories that you should know.
For the latest update, we want to add the rising star in Open Source GitHub community: PyGWalker (opens in a new tab).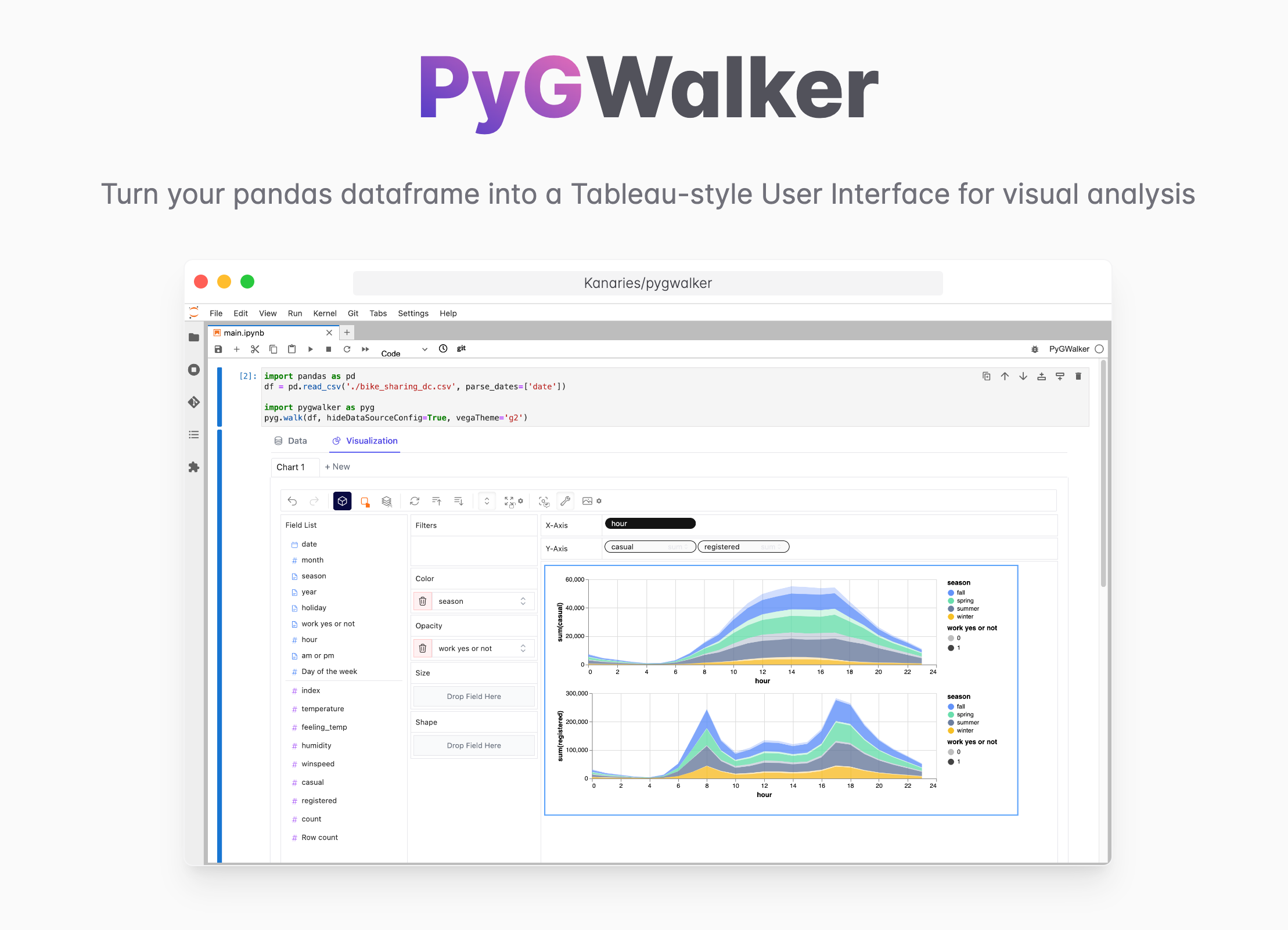 PyGWalker can simplify your Jupyter Notebook data analysis and data visualization workflow, by turning your pandas dataframe (and polars dataframe) into a Tableau-style User Interface for visual exploration.

PyGWalker (pronounced like "Pig Walker", just for fun) is named as an abbreviation of "Python binding of Graphic Walker". It integrates Jupyter Notebook (or other jupyter-based notebooks) with Graphic Walker, a different type of open-source alternative to Tableau. It allows data scientists to analyze data and visualize patterns with simple drag-and-drop operations.

You can run PyGWalker right now with these online notebooks:
And, don't forget to give PyGWalker a ⭐️ on GitHub!
1. RLHF + PaLM: Open Source ChatGPT Alternative
RLHF + PaLM repo is a work-in-progress implementation that combines Reinforcement Learning with Human Feedback (RLHF) and the PaLM architecture. It aims to create an open-source version of a model similar to ChatGPT, but with the added benefits of the PaLM architecture. Unfortunately, there's no pre-trained model provided for this solution.
GitHub - lucidrains/PaLM-rlhf-pytorch: Implementation of RLHF (opens in a new tab)
2. RATH — Open Source Tableau Alternative
As the newcomer on the scene, RATH also has one of the fastest-growing communities on GitHub. With its cutting-edge technology and innovative approach to data analysis and visualization, RATH has quickly gained popularity among data professionals and enthusiasts.
RATH's community is rapidly growing, with developers, data scientists, and business analysts alike contributing to its development and sharing ideas on how to maximize its potential. Whether you're a seasoned data analyst or just getting started, RATH is a must-have tool for anyone looking to improve their data analysis and visualization skills.
GitHub - Kanaries/Rath: Automated data exploratory analysis and visualization tools. (opens in a new tab)

More information on RATH: https://kanaries.net/ (opens in a new tab)
3. Gogs — Open Source GitHub Alternative
Gogs offers a user-friendly interface for Git version control, making it a great alternative to GitHub. It provides a range of features, including issue tracking, pull requests, and wikis. With its ability to be self-hosted and customizable, Gogs provides a flexible and secure solution for Git collaboration.
GitHub - gogs/gogs: Gogs is a painless self-hosted Git service (opens in a new tab)
4. NocoDB — Open Source AirTable Alternative
NocoDB provides a flexible and scalable data platform that supports SQL, NoSQL, and Graph databases. It features a simple, yet powerful interface for creating and managing databases, and supports real-time data updates. NocoDB is a great alternative to Airtable for those who need more control and customization over their data.
GitHub - nocodb/nocodb: 🔥 🔥 🔥 Open Source Airtable Alternative (opens in a new tab)
5. Rocket.Chat — Open Source Slack Alternative
Rocket.Chat provides real-time team communication with a range of features, including voice and video calls, screen sharing, and file sharing. It is highly customizable and can be self-hosted or used as a cloud-based solution. With its powerful collaboration tools, Rocket.Chat is a great alternative to Slack.
GitHub - RocketChat/Rocket.Chat: The communications platform that puts data protection first. (opens in a new tab)
6. Airbyte — Open Source Fivetran Alternative
Airbyte provides a simple, yet powerful interface for data integration. It supports a wide range of data sources, including databases, SaaS applications, and APIs. With its real-time data transfer capabilities and flexible data transformation options, Airbyte makes it easy to get your data where you need it.
GitHub — airbytehq/airbyte: Data integration platform for ELT pipelines from APIs, databases & files to warehouses & lakes. (opens in a new tab)
7. Plausible Analytics — Open Source Google Analytics Alternative
Plausible Analytics is a privacy-friendly analytics solution that provides detailed website activity reports without collecting personal data. It features real-time analytics and reporting and provides a simple and intuitive interface for understanding your website's performance.
GitHub - plausible/analytics: Simple, open-source, lightweight (< 1 KB) and privacy-friendly web analytics alternative to Google Analytics. (opens in a new tab)
8. Supabase — Open Source Firebase Alternative
Supabase provides a complete platform for building and hosting web applications, with a backend database, an API, and a real-time data layer. It features a simple and intuitive interface for creating and managing your application, and provides powerful collaboration tools for your team. With its ability to scale and integrate with a range of other tools, Supabase is a great alternative to Firebase.
GitHub - supabase/supabase: The open source Firebase alternative. Follow to stay updated about our public Beta. (opens in a new tab)
9. Kdenlive — Open Source Adobe Premiere Alternative
KDenLive is an open source video editing software that provides a powerful and flexible platform for creating, editing, and producing high-quality video content. It supports a wide range of formats and includes advanced features such as multi-track editing, color correction, and visual effects. With a user-friendly interface and an active community, KDenLive is a great choice for both amateur and professional video editors alike.
GitHub - KDE/kdenlive: Free and open source video editor, based on MLT Framework and KDE Frameworks (opens in a new tab)
10. Mastodon — Open Source Twitter Alternative
Mastodon is an open-source alternative to centralized social media platforms like Twitter. It is a decentralized network of servers that allows users to connect with each other, share content, and participate in online communities. It offers many of the same features as traditional social media platforms, including the ability to post updates, share images and videos, and interact with other users through likes, comments, and reposts. Mastodon places a strong emphasis on privacy, freedom of speech, and control over one's online identity, making it a popular choice for users who value these principles.
GitHub - mastodon/mastodon: Your self-hosted, globally interconnected microblogging community (opens in a new tab)
Conclusion
In conclusion, these 10 open-source GitHub repositories are a testament to the vibrant and thriving open-source community. They offer cost-effective alternatives to proprietary solutions and provide valuable tools for developers, data analysts, and businesses alike. By utilizing the advantages of open source, these ten projects have developed strong and effective solutions and are important assets that are definitely worth exploring and supporting.
FAQ
What are open-source projects on GitHub?
Open-source projects on GitHub refer to software projects whose source code is available to the public under an open-source license, allowing developers to contribute to and improve the codebase.
What are the most popular GitHub projects?
The most popular GitHub projects vary by category and purpose, but some of the most widely used and recognized include Kubernetes, Flutter, React Native, Ansible, and TensorFlow.
What are some good open-source projects to contribute to for beginners?
For beginners, some good open-source projects to contribute to might include freeCodeCamp, which helps developers build skills and portfolios through interactive coding challenges, as well as projects like Trinea's Android Open Project or Wikimedia Commons Android App.
How can I find open-source projects on GitHub?
You can find open-source projects on GitHub by searching by topic, using the GitHub Explore feature, or by browsing popular repositories and projects recommended by other developers and experts in the community.
What are the biggest open-source projects on GitHub?
Some of the biggest open-source projects on GitHub include freeCodeCamp, TensorFlow, Kubernetes, and React Native, which have gained widespread recognition and adoption in the technology industry.